Waterproof, Sand Proof and Easy Portability Are A Few Features That Make These Picnic Blankets and Mats so Good.
If you plan on bringing an ordinary blanket on a picnic or camping trip or making use of a vinyl tarp from the dusty shelf in the garage as an alternative to a picnic blanket, think again! The last thing we you to happen is to spoil a sunny day at the beach or in the woods with a sub par protective layer between you and the dirt or sand. That generally results in dirty clothes, sandy food and a wet bum. Size is also important especially if you plan on feeding a lot of people. Fortunately manufactures like Zenmarkt and Songmics have recognized this need and made some truly large picnic mats.
Picnic mats or blankets aren't made for luxury. They are designed to provide picnic goers and campers the ease and comfort of sharing a great meal with good company while enjoying the view of its scenic surroundings.
If you are looking for a picnic mat for camping it is worth noting that all of these mats and blankets can double as a moisture barrier between your sleeping bag and the ground. They also make  great camping pillows when they are folded up into their portable form.
Features To Consider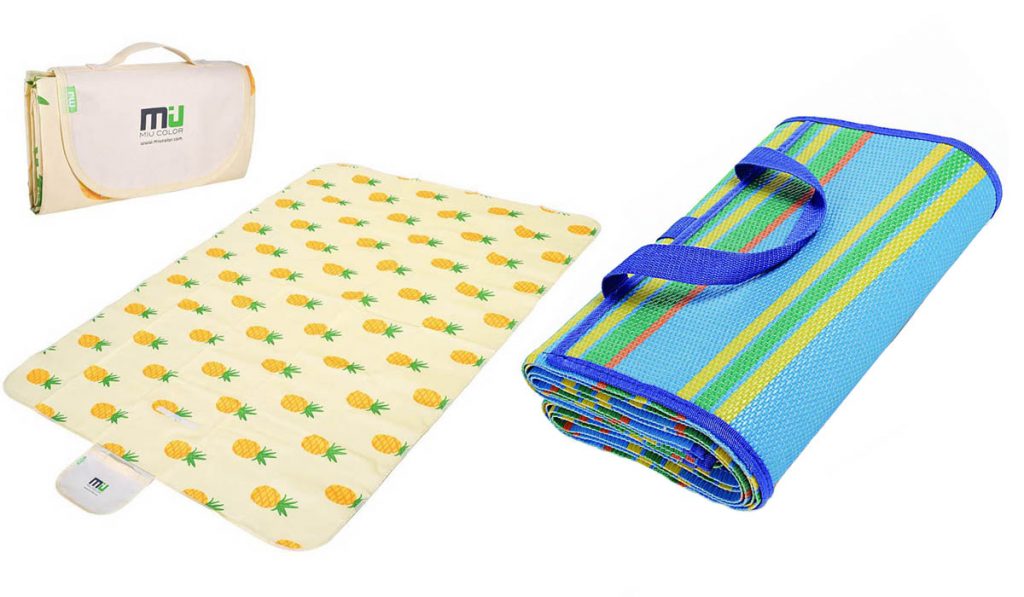 Waterproof- most picnic mats and blankets are made to be waterproof. Some are made with 100% water-proof materials that would easily slide down the liquid while others are made with a waterproof protective bottom layer to avoid moisture absorption from a damp grass or a wet sand.
Sand-proof- choose a material that can easily dust-off sand in seconds even when wet. There are some beach mats that are designed to be sand repellent wherein sand really falls right through its breathable layers.
Rip-resistant- there are some beach blanket are made from rip-stop nylon that won't get easily punctured by pointy rock or rough surfaces. These type of beach mats are more durable, lightweight, and quick-drying.
Mildew and mold resistant- keeping away molds and mildew from the picnic blanket is a tedious task especially if we only get to use the picnic mats during summer. Good thing there are picnic mats available that are BPA free and mold and mildew resistant.
Easy to Carry and Easy to Store- most picnic blankets nowadays are designed with a strap and are foldable which makes it portable and easy to carry around.
Comfortable- lightweight picnic mats and blankets aren't always the most comfortable option unless you'll only be using it on a sandy beach. A thick picnic mat and blanket provides the comfort and the cozy feeling either when sitting or lying down. It is also provide support and cushion for children who loves to play around.
Our Picks For Best Picnic Blankets and Mats
Here are our picks for the best picnic blankets and mats for you next camping trip, picnic or camping trip. All of these picks are a huge improvement over the conventional checkered blanket we all tend to associate with picnics. However some of these blankets and pads are more ideal for certain situations and locations than others.
Zenmarkt Sand Proof Oversized Beach Blanket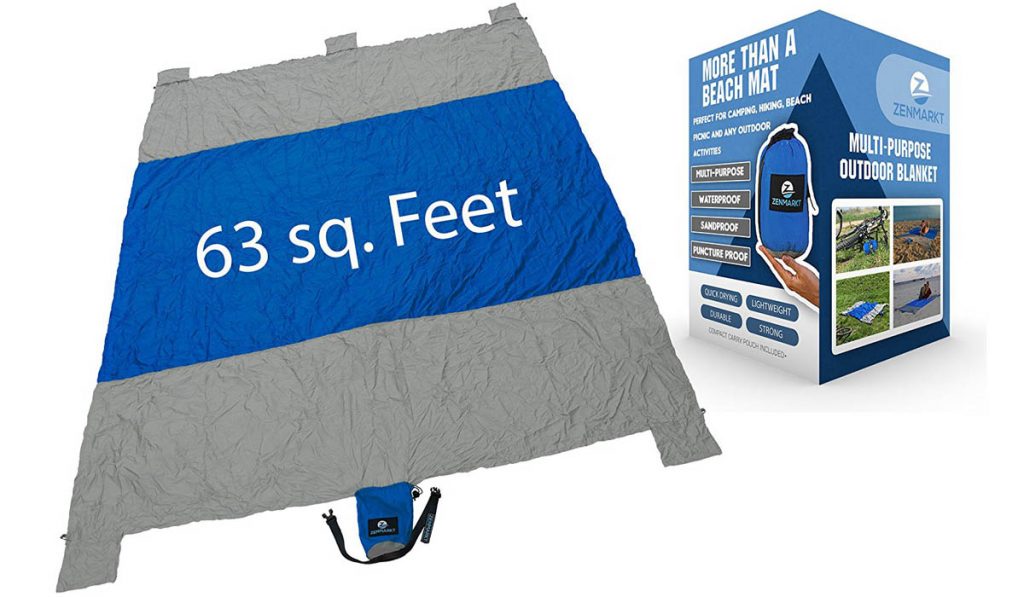 This oversized beach blanket is as big as 7'x9' and can be as compact as 4"x8" when not in use. With this size, it can surely make your family comfortable with enough room left over for guests and friends. It's easy to use as you just have to fill up the 5 pockets with sands to make it windproof. It also comes with a handy storage pocket to ensure that your valuables will stay dry. This Zenmarkt Sand Proof Oversized Beach Blanket is made of 100% parachute fabric, making it durable and puncture resistant. Most of all, it gives you the protection against sand and moisture.
Songmics Outdoor Waterproof Picnic Blanket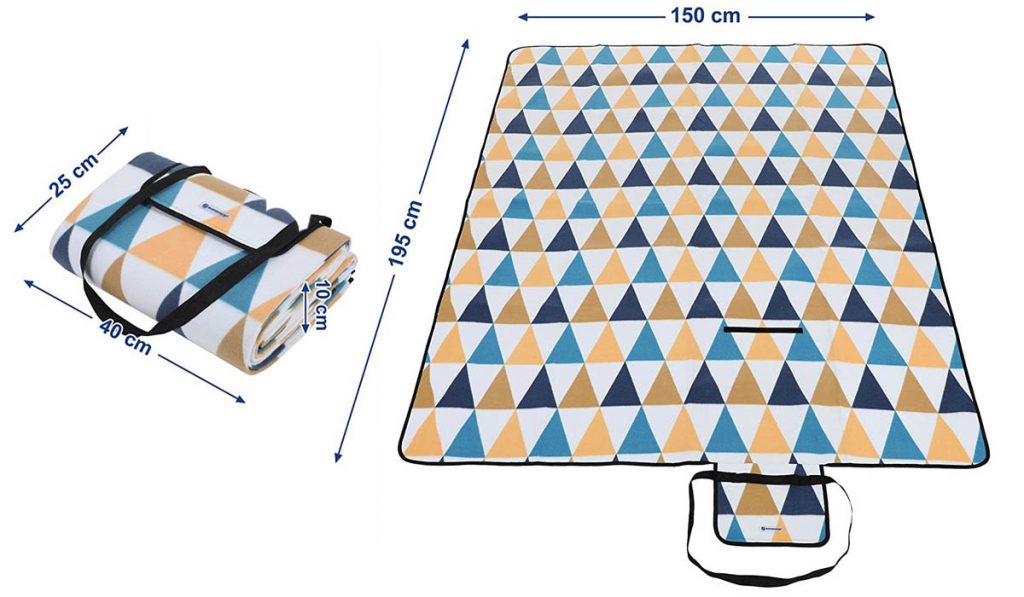 When it comes to picnic blankets, this well designed blanket from Songmics is a popular choice. It is made of cozy fleece cover with waterproof EPE backing and selected foam for keeping you cozy and dry all day. It's multi-functional as its bright color and attractive designs are great to serve as floor mat, seat cover, or table cloth. Your family of 2-4 can either sit or lie down comfortably as it unfolds to 76 3/4"x59 1/8".
IndigoMer Outdoor Reversible Mat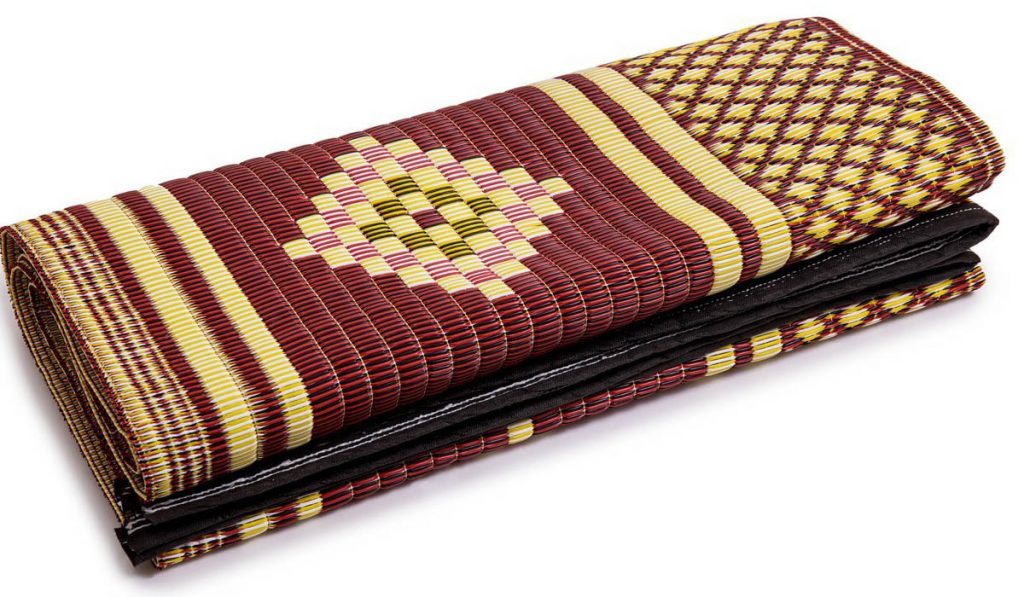 This  Outdoor Reversible Mat by IndigoMer may seem like it belongs on a patio outside a home with its beautifully handcrafted reversible design, but it's rugged construction makes it ideal for any outdoor picnic event. Not to mention that it is an Eco-friendly choice since its made from high quality recycled materials. It doesn't mean that it offers less than most other picnic mat in the market though. The IndigoMer Outdoor Reversible mat is feature-rich as it is portable and foldable, it is mold and mildew resistant, UV resistant,  water-proof, sand-proof, and easy to clean and store.
Kauhale Living Hawaiian Waterproof Picnic Quilt Mat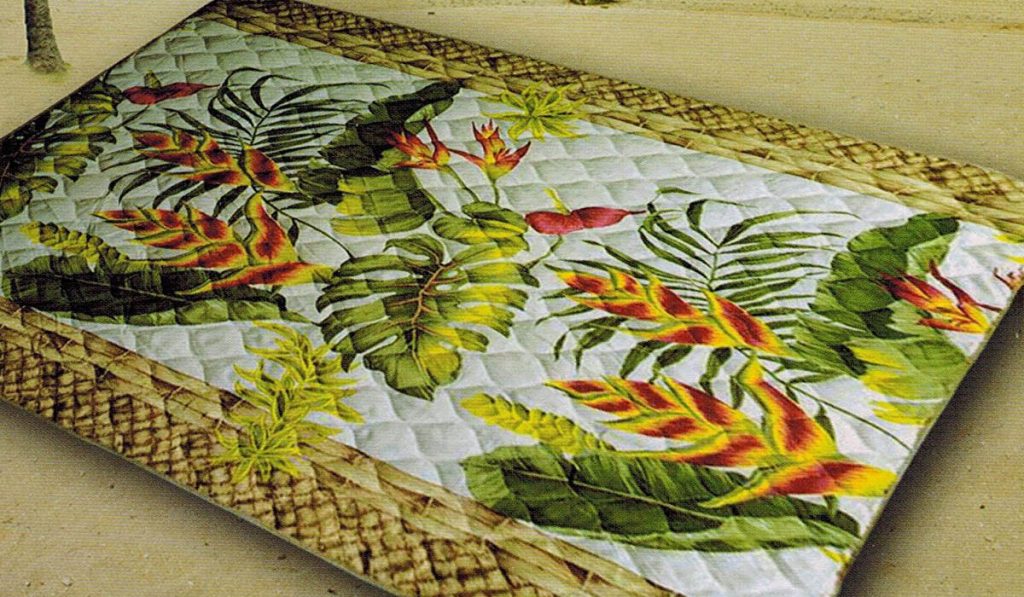 This traditional Hawaiian style mat is proudly made by a Hawaii-based artist which features the inviting and beautiful native flowers for a more authentic Hawaiian feel. With its 100% quilted polyester fabric with poly fill, anyone particularly the kids will surely love its soft and cozy top fabric. It's easy to use, water resistant and it comes with sand pockets on each corner to weigh down the quilt which is great for windy days.
Camco Handy Mat with Strap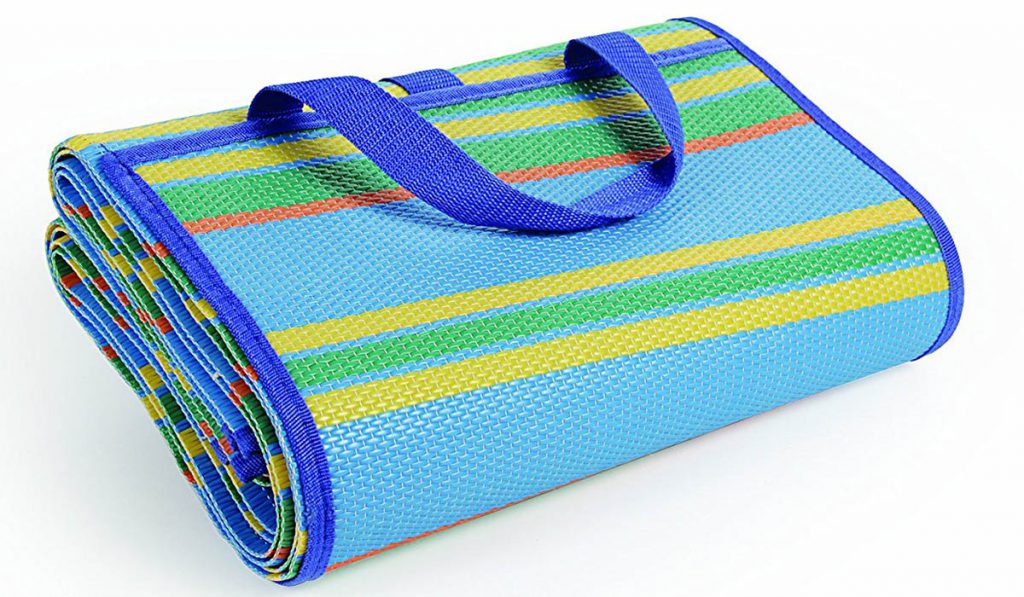 The Amazon's #1 bestselling picnic mat is the Camo Handy Mat with Strap is weather-proof, making it ideal for picnics, beaches, RV and outings. Available in two sizes: 60"x78" and 72"x108", this blue and green picnic mat folds out to as compact as 10.5"x15" for easy storage and portability. It's made with durable, mildew resistant material and can be cleaned easily with just soap and water.
MIU Color Large Waterproof Picnic Mat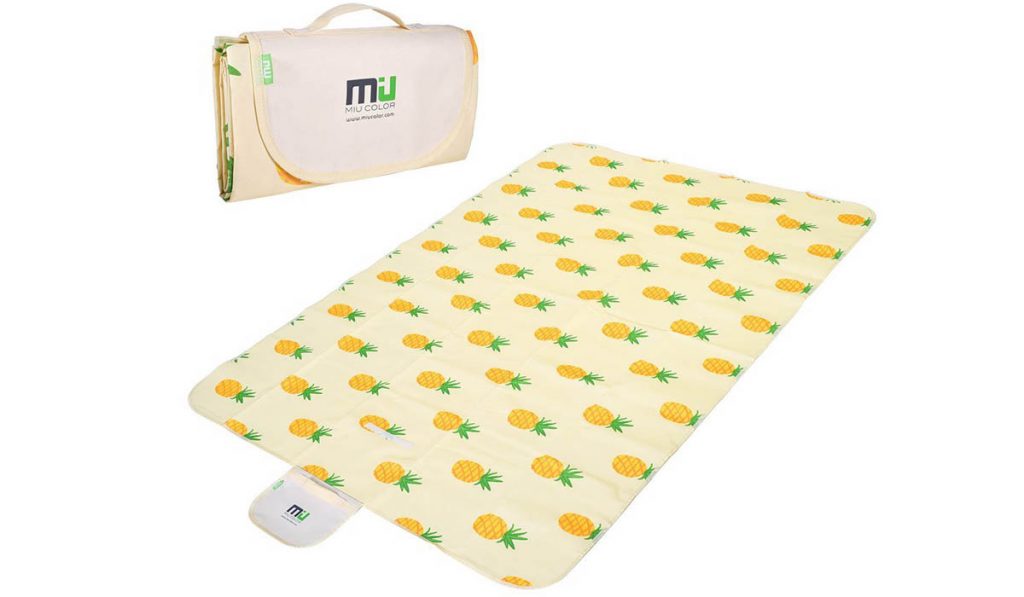 This well designed picnic mat comes in different cool and fun colors and designs such as: pineapple; green plaid; green leaves; navy plaid; orange-blue plaid; red plaid; and single-deck streak. Everyone can relax and stay dry on its soft and comfortable mat surface while being protected from heat and moisture from on its bottom layer. It's lightweight and easy to carry as it can be folded to 12.5"x10.6" and when unfolded, it provides a room for 2-4 persons at its 78.7"x5.7" extra large size.
Welinks Outdoor Foldable Camping and Picnic Foam Pad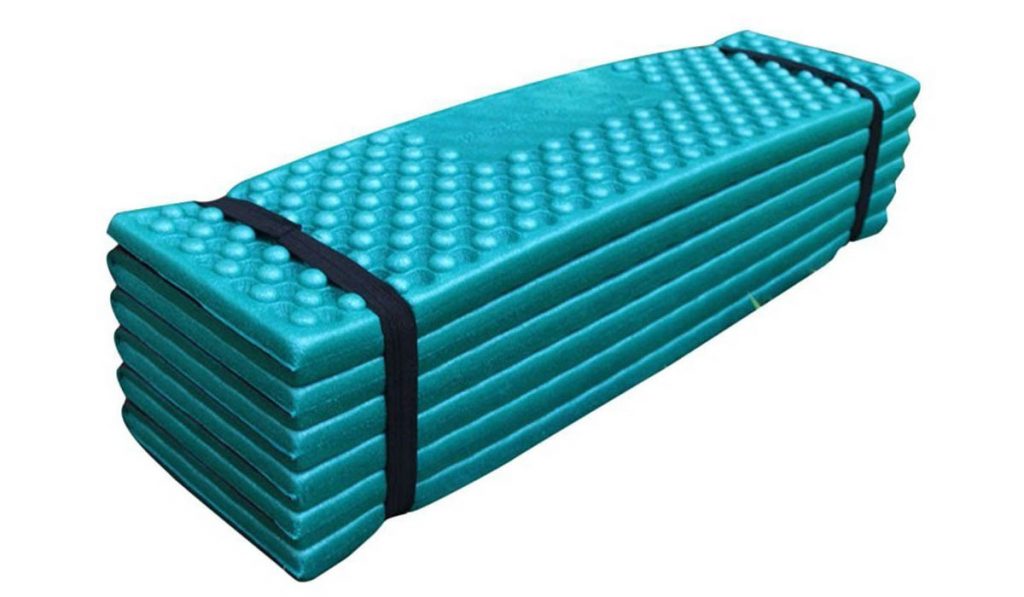 If you're up for comfort, the Welinks Outdoor Foldable Foam Pad might suits your needs. It is made with high-grade foam materials that provides good flexibility, resistance to tear and abrasion, making it suitable for picnic and camping after an outdoor sports like crossing, hiking or biking. It features a foldable design of approximately 22.44""x6"x4.7" when folded and a comfortable size of 74"x22.44" when unfolded.