2, 3 and 4 Man Pop-Up Tents are Great for Setting Up Camp at Night or Indoor Camping for Kids
Pop-up tents are becoming very popular among campers. They are easy to setup and store giving you more time to enjoy the outdoors or get ready to go home. As more camping enthusiasts switch to the pop-up tent, others are wondering what the fuss us all about. Here are some benefits of owning a pop-up tent to help you decide if they are the right choice for your camping or backpacking needs.
Pop-Up Tent Pros and Cons
Pros
Quick and easy to set-up
Quick and easy to take down
The generally take less room in storage
Ideal for camping indoors for kids, because they don't require tent stakes or poles.
Cons
They are not as sturdy as conventional tents
They tend to be a little more expensive than conventional tents.
A Few of The Best Pop-Up Tents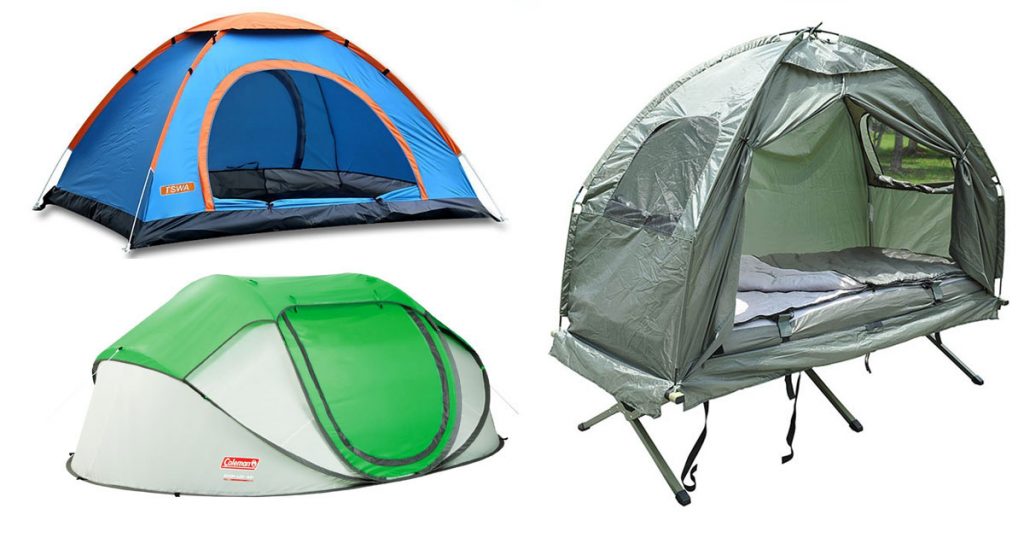 There are a lot more pop-up tents available to the consumer than there used to be, and the quality has has improved considerably over the years. The tents listed here handle wind and rain better than most other pop-up tents, but they still don't stand up to the elements as well as conventional tents in the same price range. Pop up tents can be found in sizes from 1 to 4 person pretty easily, and there are a few manufacturers that make family size pop-up tents for those who need a lot of space.
Coleman Galiano Pop-Up Tent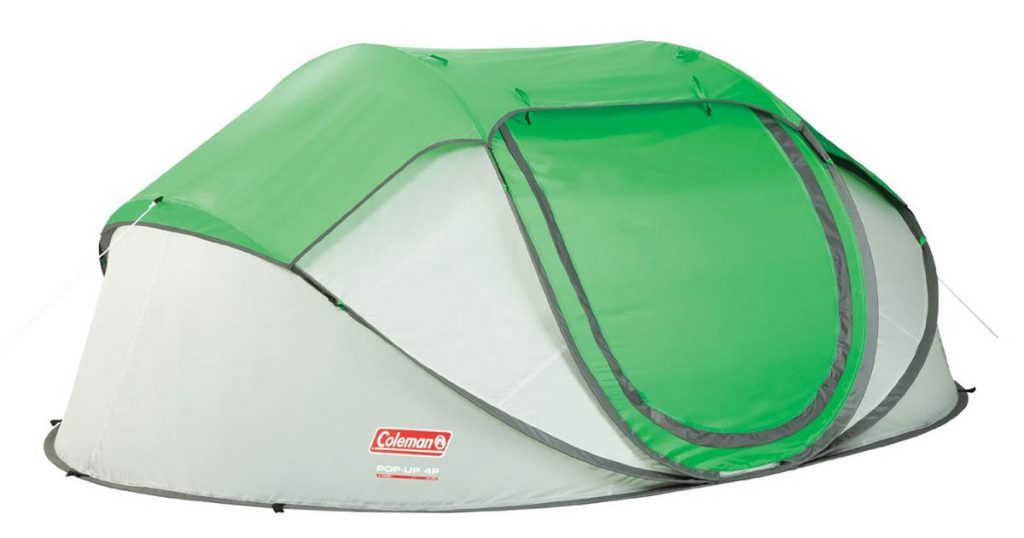 This is by far the most popular pop-up tent on the market. Coleman makes a 2 man version and a 4 man version, and they are both really easy to set up and take down. However the first time you attempt to take it down will probably be a bit of a challenge, and I recommend watching this Coleman Galiano Set-up and take-down video first.
If you plan on using this tent for more than one person, I recommend buying the four man, because the two man tent is a pretty tight squeeze for two people and their stuff. The Coleman Galiano stands up better to rain than any other pop-up I have used and two storage pockets inside that are really a nice added convenience.
OT QOMOTOP 4 Person Pop up Tent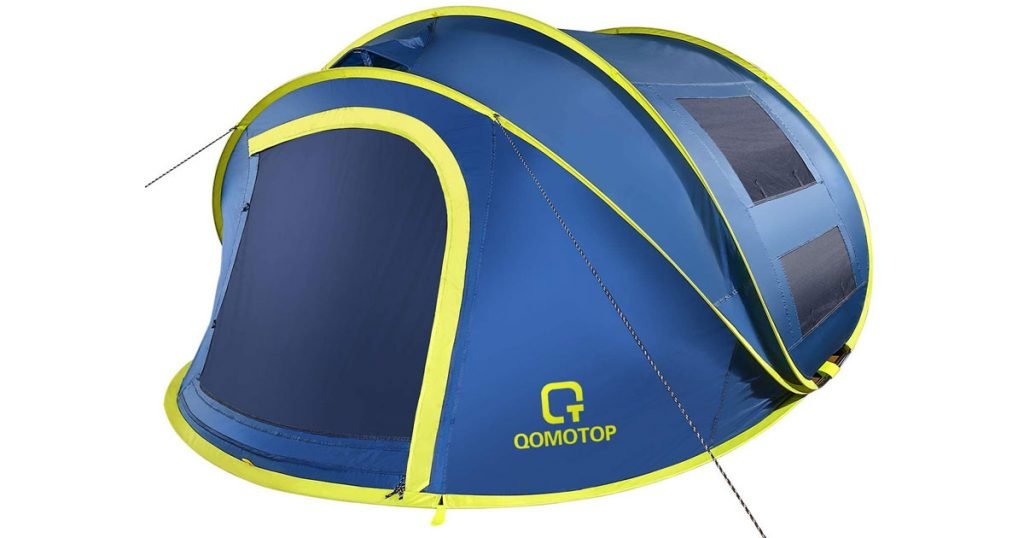 This 4 person tent from OT QOMOTOP is a great option if you need a tent that can handle bad weather. The waterproof fabric and sturdy frame make this tent one of the toughest pop up options available. It is much faster to set up than a conventional tent, so if you are in a hurry, because it's almost dark or you are getting rained on the 4 person OT QOMOTOP tent is ideal
The setup time for this tent is fast even for a pop-up tent. If it is windy you will need to use the stakes and tie downs which is the only time consuming part of the tent setup. It is also really easy to roll this tent up and fit it back in it's case which is not true of a lot of other tents out there. Click here to see a video on the setup and teardown of this popup tent.
Outsunny Compact Portable Pop-Up Tent and Camping Cot with Air Mattress and Sleeping Bag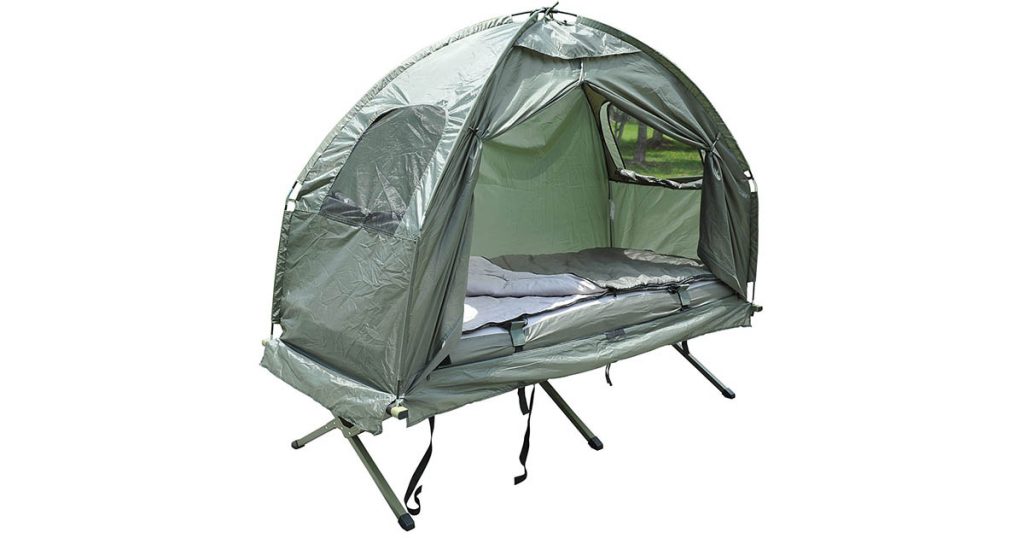 If you are looking for a one person "all in one" option for a relatively low price than this is the ideal pop-up tent for you. It ships with a cot, tent, mattress and pillow, so all you need is a sleeping bag, and you are ready to go. All of this fits into a heavy duty bag for easy transport. This combo is unbelievably comfortable, so you can expect a great night of sleep. The windows are an added bonus especially in warmer climates. The only drawback is that it may be a bit short for people over 6ft tall, but if you are 5'11" or shorter this is a great one man set up.
MOVOTOP Beach Tent
This pop-up beach is great for day outings like picnics or trips to the beach. It is not designed for overnight camping, because it is not super sturdy. It is primarily for shade, and it is a handy tent to have to get out of the sun or just to just keep your stuff together outdoors. It sets up in seconds and is easy to fold up when it's time to go.
It is also a good option for indoor camping for kids or even backyard camping in warm weather.